Design BBQ Pro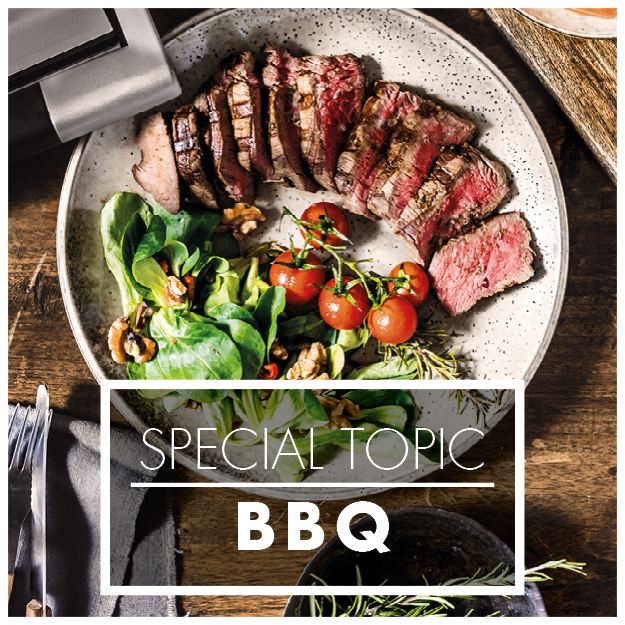 Steaks in Steakhouse-Quality
Unfolds for use as a large barbecue grill
Lockable top plate for height adjustment
Grill area from 750 cm² to 1500 cm²
Watch product video now
€149.90 *
€179.99 *
(16.72% Saved)
Prices incl. VAT and shipping costs
Ready to ship today,
Delivery time appr. 3-4 workdays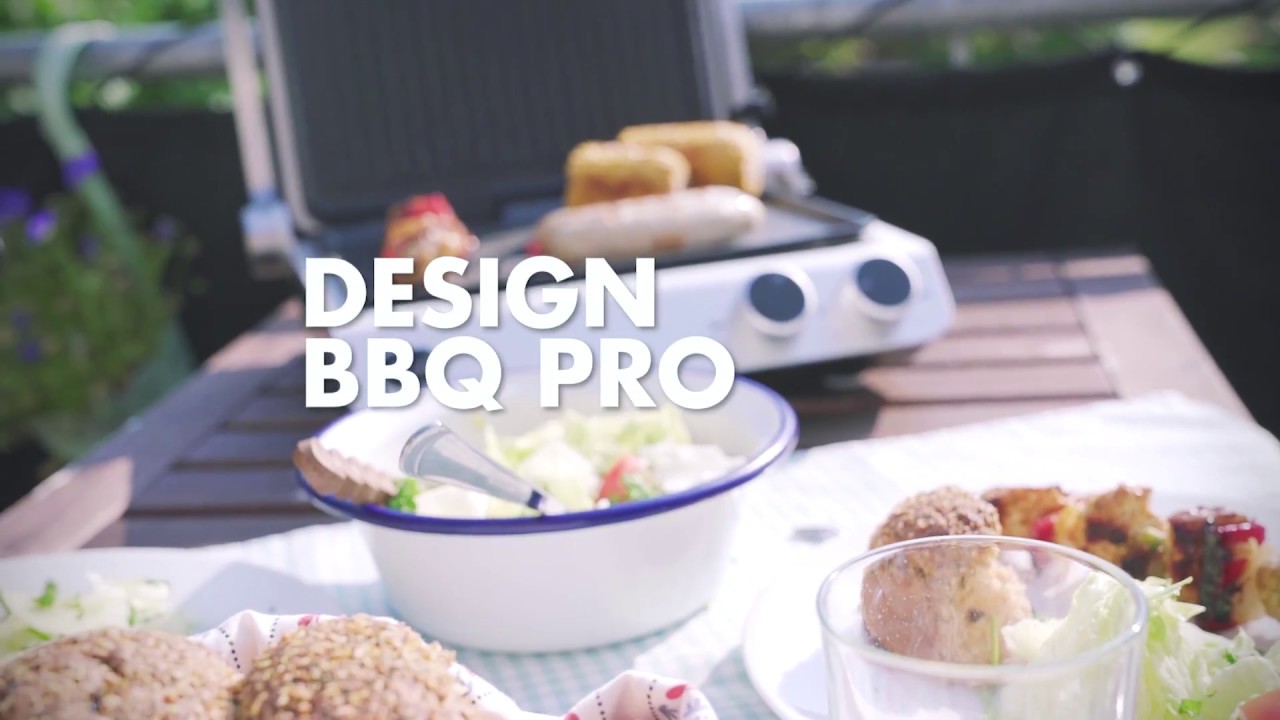 Click on the picture to start the video
Lockable height adjustment
of the top plate.
The top plate can be locked in 5 different steps. You can therefore adapt the grill to any thickness of your grilled food.
You can also use the Design BBQ Pro completely unfolded.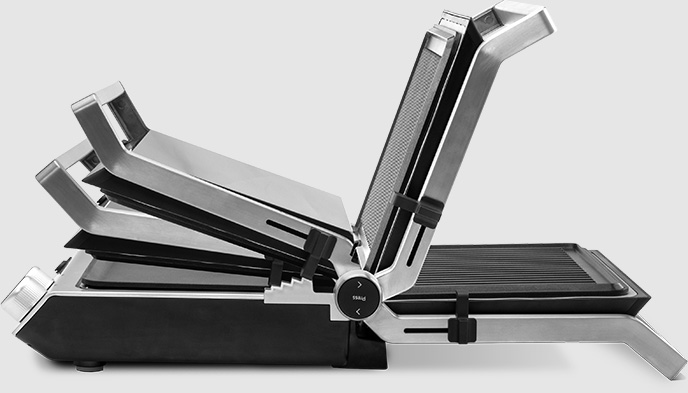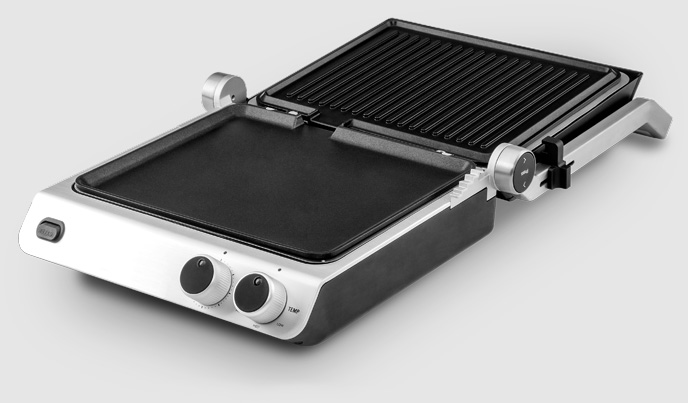 Large barbecue grill
The two barbecue areas together make up a grill area of approx.1500 cm².
Ideal for any party with several people.
Removable grill plates
The grill plates can be unlocked and removed with a simple push of a button.
Their non-stick coating makes them easy to clean in the dishwasher.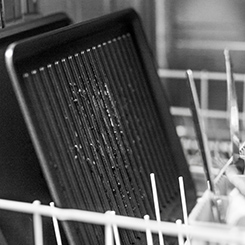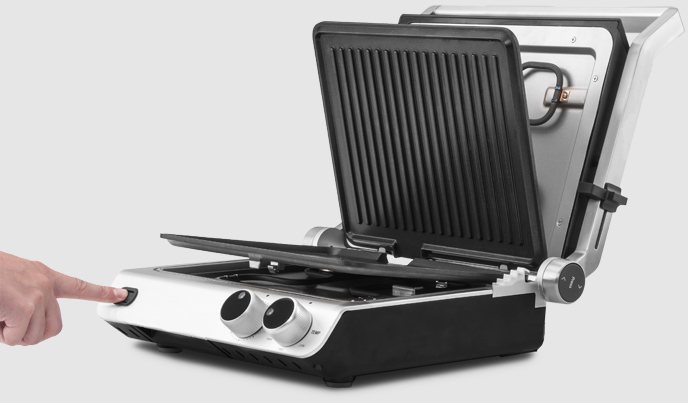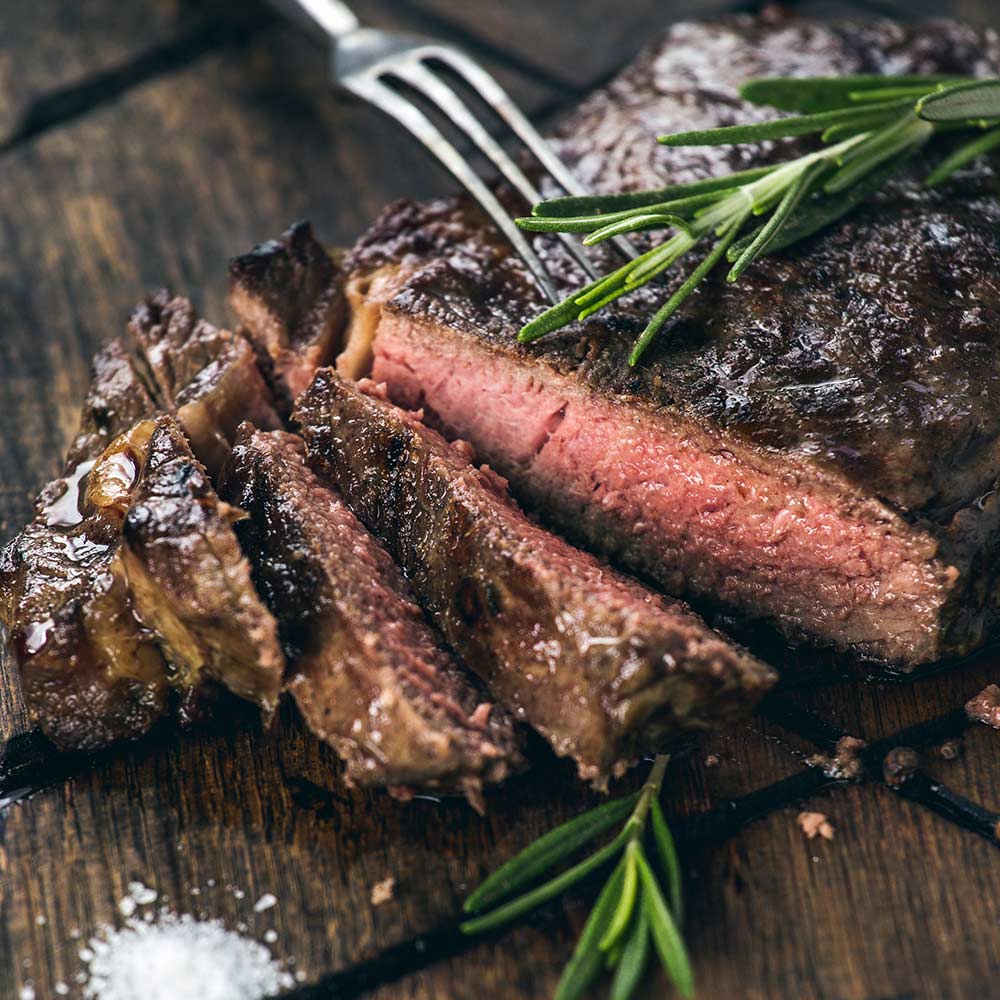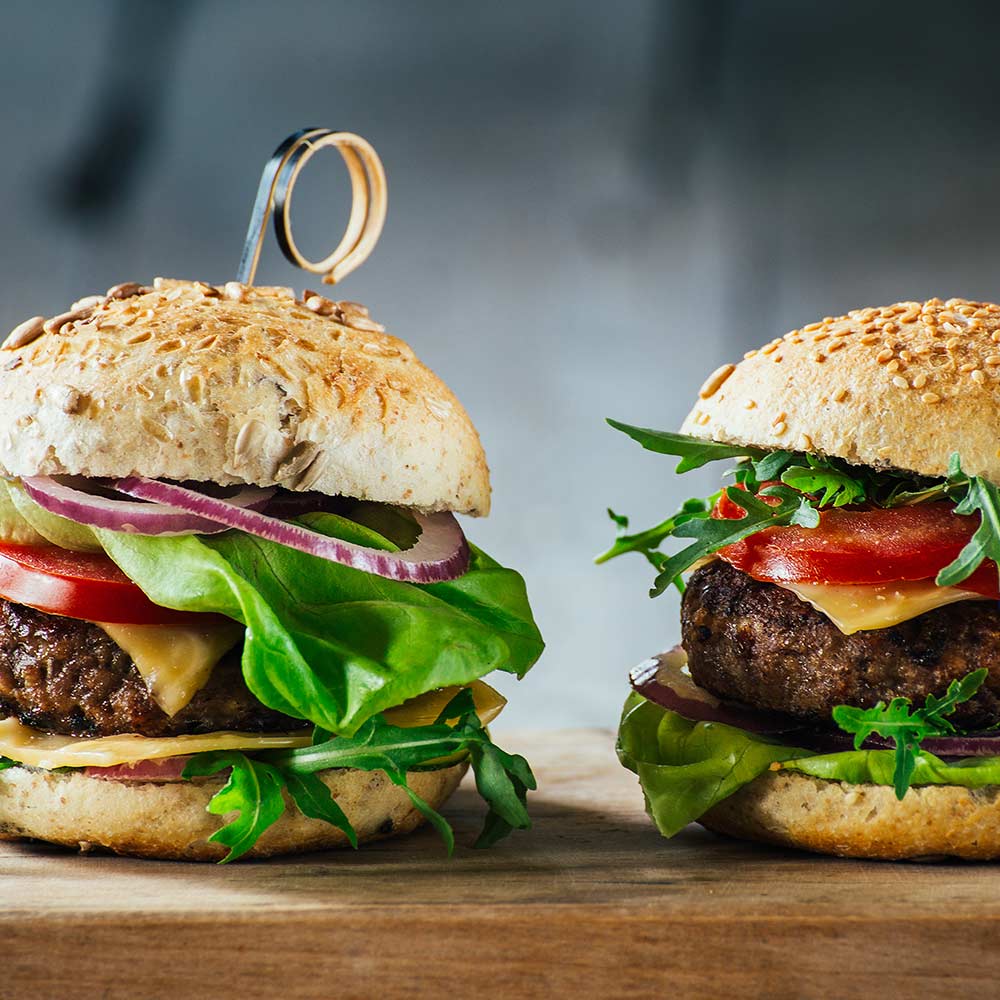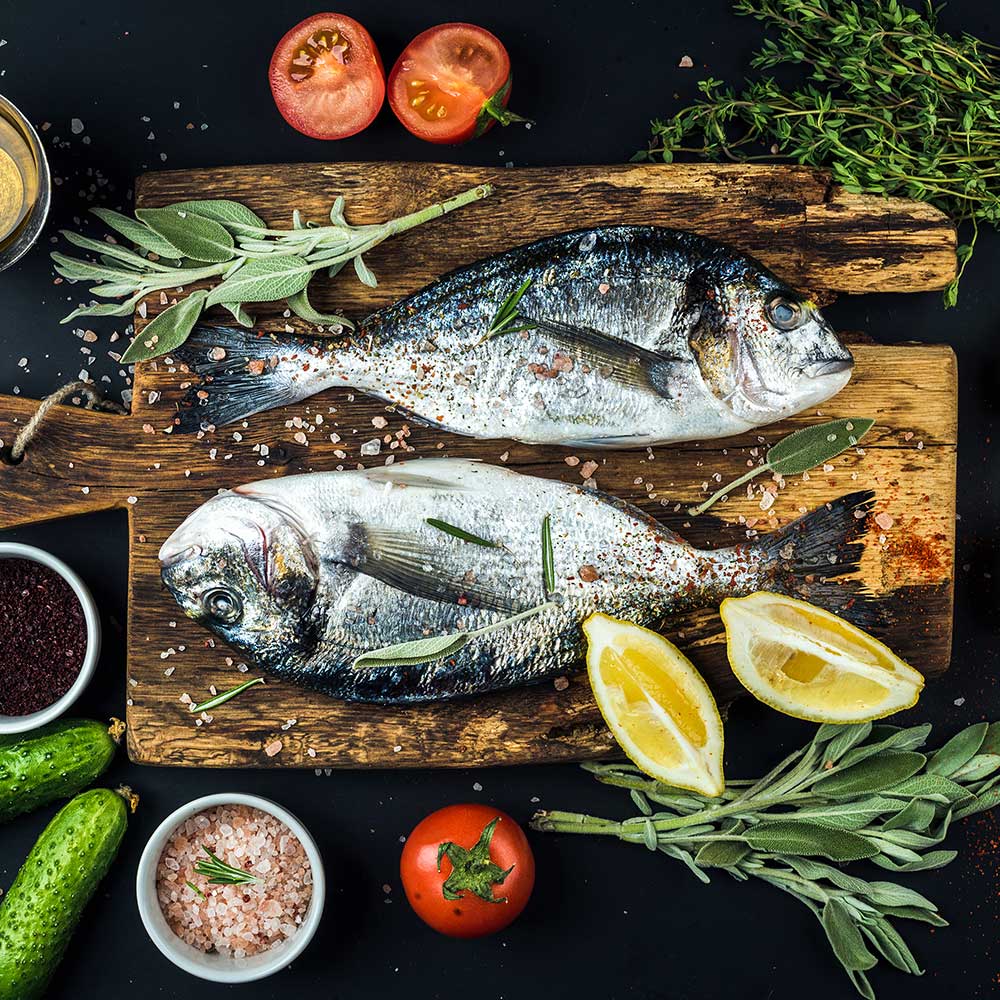 5-Step temperature adjustment to adjust for type and thickness of meat
30 minute timer with automatic shut-off function and audible signal
Grill contact area: approx. 750 cm² (25 x 30 cm)
Unfolds for use as a large barbecue grill: approx. 1500 cm²
Flat bottom grill plate, ribbed upper part grill plate
Low-fat feature: Healthy contact-grilling for zero fat
Extra-fast grilling with 2000 watt
Grill area with anti-stick coating
Removable grill plates, suitable for use in dishwashers
Lockable top plate for height adjustment
Tiltable grill plate for easy grease drainage
Removable grease catcher (suitable for use in dishwashers)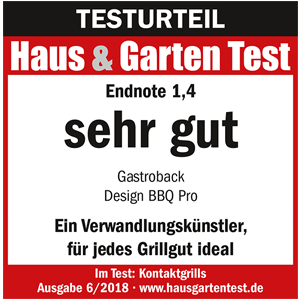 Design BBQ Pro
Item No.
42537
Power supply:
220 - 240 V ~ / 50 - 60 Hz
Power consumption:
2000 Watt
Length of power cord:
approx. 90 cm
Weight:
approx. 7.25 kg
Dimensions:
(Width x Depth x Height)
approx. 380 mm x 364 mm x 174 mm (closed)
approx. 378 mm x 508 mm x 342 mm (open)
Size of grilling area:
Base: 250 mm x 300 mm
Lid: 250 mm x 300 mm
Certification:
---
Here you will find the most frequently asked questions and the corresponding answers to this article.
Sie haben die gewünschte Temperaturstufe eingestellt und die Anzeige auf dem Temperaturregler leuchtet, aber das Gerät heizt nicht.
Der Grillzeit-Timer ist nicht eingestellt.
Das Gerät heizt nur, wenn am Grillzeit-Timer (TIME) eine Zeit eingestellt ist. Drehen Sie den Grillzeit-Timer im Uhrzeigersinn auf die gewünschte Grillzeit.
Beide LED-Kontrollleuchten sind dunkel, obwohl das Gerät Strom hat. Das Gerät heizt nicht.
Dies ist nach dem Ablauf der eingestellten Grillzeit normal. Der Grillzeit-Timer schaltet das Gerät AUS, sobald die eingestellte Zeit abgelaufen ist.
Die LED-Kontrollleuchten leuchten erneut auf und das Gerät heizt, sobald Sie eine Temperatur und Grillzeit eingestellt haben.
Nach dem Einschalten bemerken Sie Brandgeruch. Eventuell steigt Rauch unter den Grillplatten auf.
Das kann vorkommen, wenn Sie das Gerät zum ersten Mal einschalten. In diesem Fall besteht kein Grund zur Beunruhigung.
Bereiten Sie das Gerät vor der ersten Verwendung zum Betrieb vor (siehe: 'Vor der ersten Verwendung' in der Bedienungsanleitung). Stellen Sie dazu den Temperaturregler auf SUPER HIGH und den Grillzeit-Timer auf 20 Minuten. Lassen Sie das Gerät arbeiten, bis die Glocke des Grillzeit-Timers erklingt.
Die Heizelemente oder Grillplatten sind verschmutzt.
Schalten Sie das Gerät AUS und ziehen Sie den Netzstecker aus der Steckdose. Lassen Sie das Gerät abkühlen, nehmen Sie die Grillplatten heraus und reinigen Sie die Heizkammern mit den Heizelementen und die Grillplatten sorgfältig (siehe: 'Das Gerät reinigen' in der Bedienungsanleitung). Wenn Sie die Grillplatten nach dem Grillen abnehmen, achten Sie darauf, dass keine Lebensmit-telrückstände in die Heizkammern und auf die Heizelemente fallen/tropfen. Vergewissern Sie sich, dass die Heizelemente und die Unterseiten der Grillplatten völlig sauber sind, bevor Sie das Gerät wieder zusammensetzen (siehe: 'Das Gerät zusammensetzen' in der Bedienungsanleitung).
Sie können den Deckel nicht öffnen.
Der Deckel ist am Boden des Gerätes verriegelt.
Stellen Sie den Schieber der Höhenverstellung auf die Position OPEN, um den Deckel zu öffnen.
Der Deckel lässt sich nicht ganz schließen.
Die Höhenverstellung ist eingestellt.
Halten Sie den Deckel fest und ziehen Sie den Schieber der Höhenverstellung zu sich heran, bis er auf der Position OPEN steht.
Sie können den Deckel nicht in die flache Position zurück klappen.
Für den Betrieb mit geöffnetem Deckel wird der Deckel von der Scharnierverriegelung in der offenen Position gehalten.
Halten Sie den Deckel am Griff fest, während Sie auf die Scharnierentriegelung drücken. Klappen Sie dann den Deckel langsam ganz nach hinten (siehe: 'Eigenschaften Ihres neuen Grills' in der Bedienungsanleitung).