Automatic Milk Frother
1 litre foam volume
Produces approx. 1 litre of tasty foamed milk in only 3 minutes
Patented foaming wings
Foam stays for a long time
€95.00 *
€119.99 *
(20.83% Saved)
Prices incl. VAT and shipping costs
Ready to ship today,
Delivery time appr. 3-4 workdays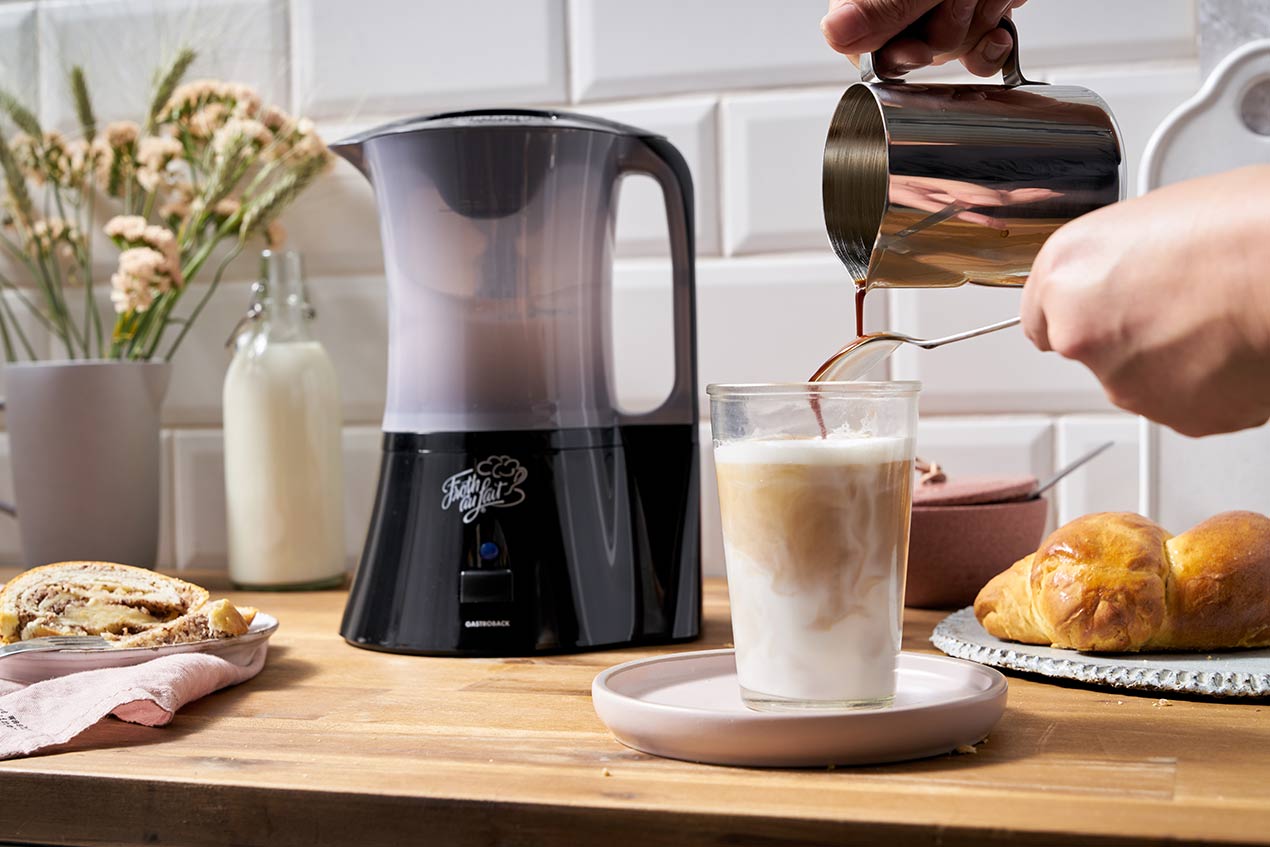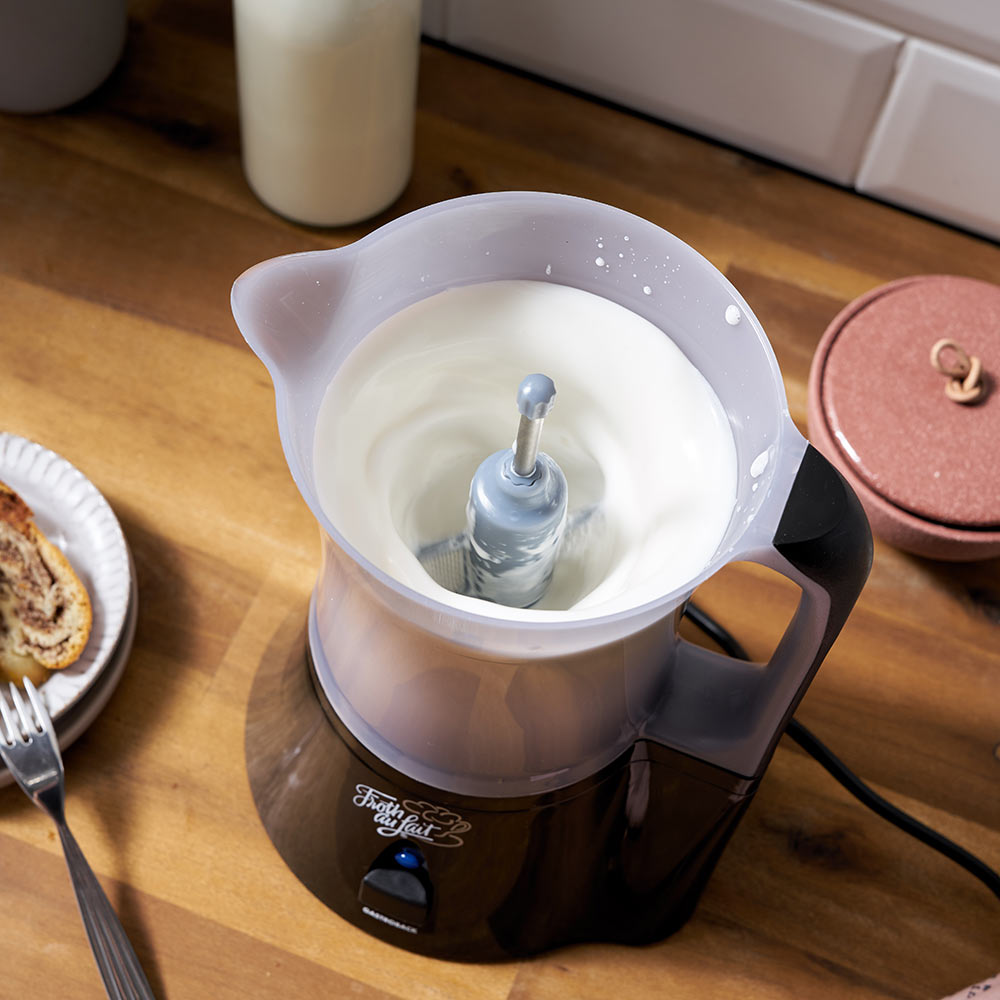 Froth your Milk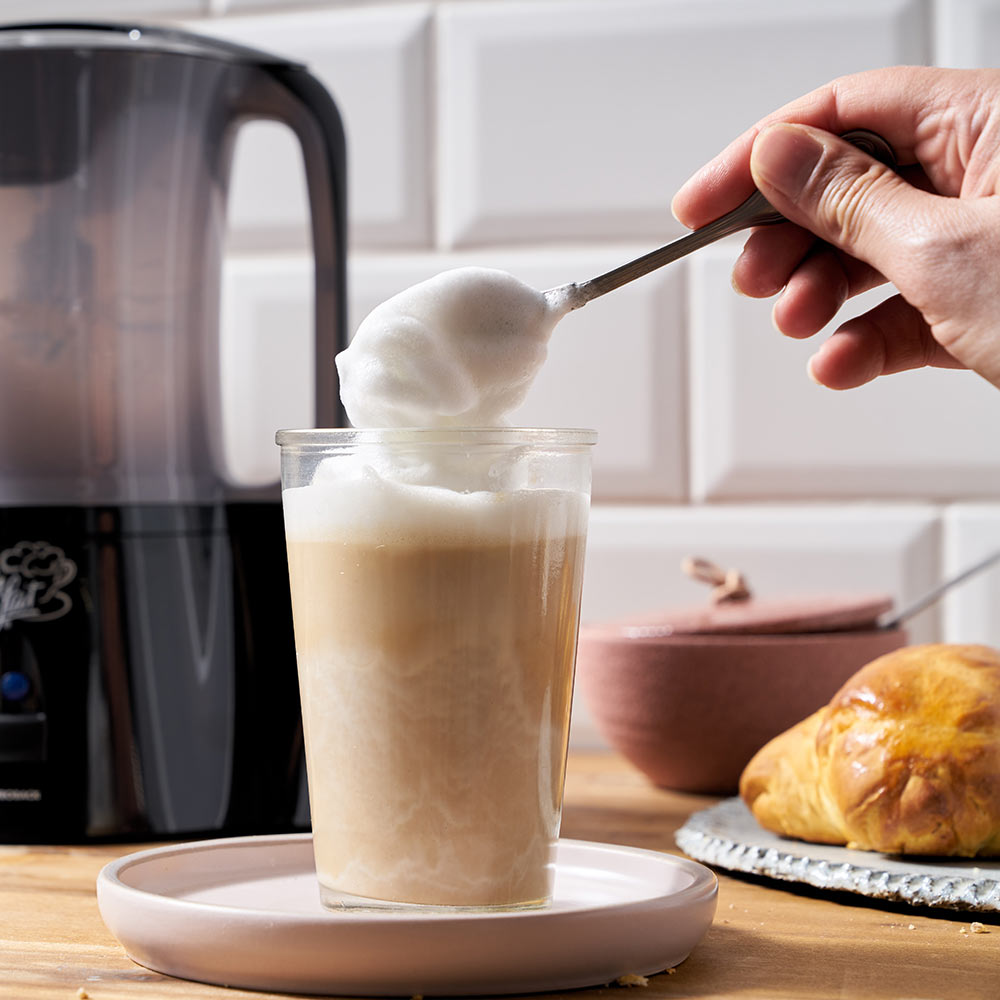 Foam stays for a long time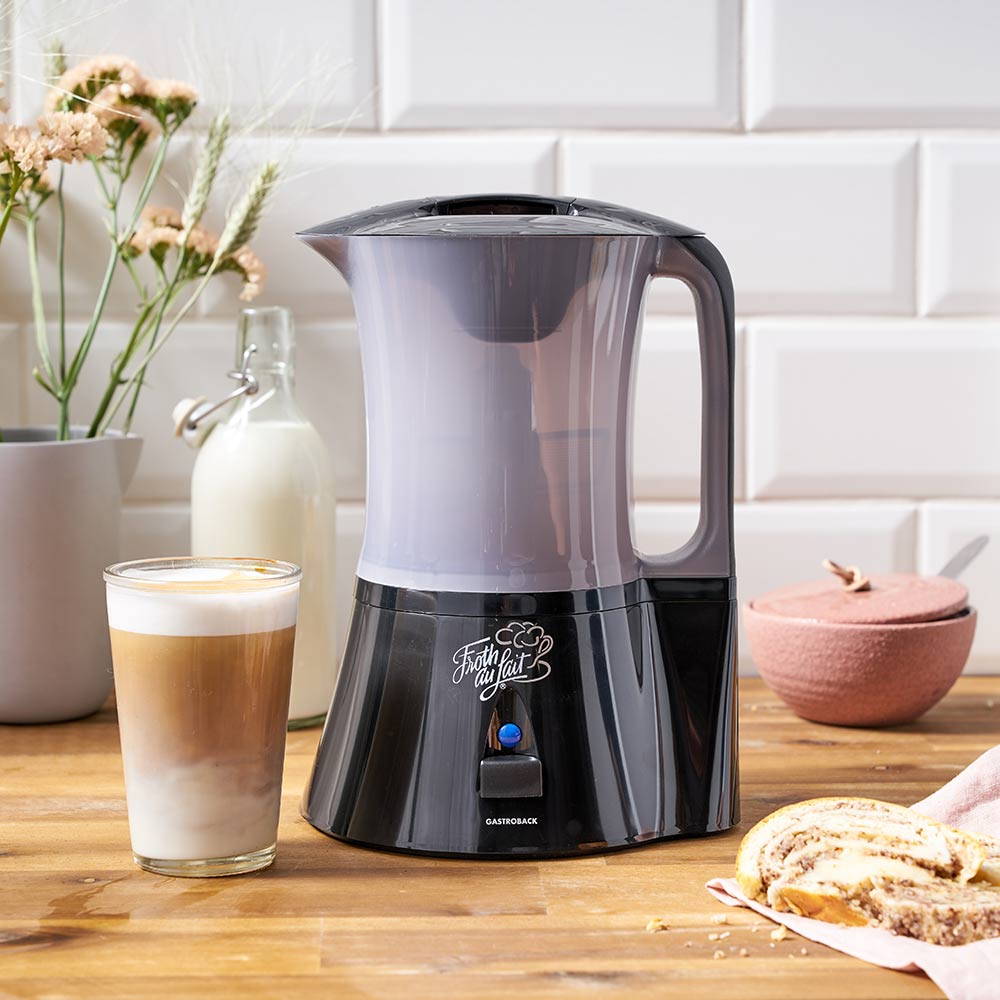 Enjoy!
Automatic Milk Frother
Produces approx. 1 litre of tasty foamed milk in only 3 minutes
Foam stays for a long time
Fully automatic
For milk with 0,3% - 3.5% fat
No need to preheat the milk because of the integrated heating element
Patented foaming wings
Extensive recipe ideas included
Easy to clean
Awards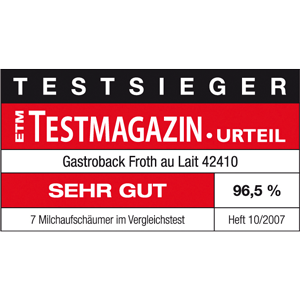 Automatic Milk Frother "Froth au lait"
Art.-No.
42410
Power supply
220 - 240 V AC / 50 Hz
Power consumption:
500 W
Weight:
approx. 1.8 kg
Capacity:
approx. 1 litre
Dimensions:
approx. 190 mm x 267 mm
(Diameter x Height)
Certification:
---
Here you will find the most frequently asked questions and the corresponding answers to this article.
Flügel dreht sich nicht kontinuierlich und produziert keinen ordentlichen Milchschaum.
Die beiden Flügelteile sind nicht eingerastet.
Flügel nicht ordnungsgemäß eingesetzt.
Stellen Sie sicher, dass beide Flügelteile richtig mit einem hörbarem "Klick" zusammengefügt sind. Stecken Sie danach den Flügel in den Behälter.
Flügel dreht sich nicht, wenn der Startknopf gedrückt und die Kontrollleuchte an ist.
Milch oder Sirup sind nicht richtig von der Oberfläche des Motorgehäuses entfernt worden, so dass der Antrieb blockiert ist.
Nehmen Sie den Behälter vom Motorgehäuse. Reinigen Sie mit einem leicht feuchten Schwamm rund um die Antriebswelle die Oberfläche. Danach drehen Sie gegen den Uhrzeigersinn die Welle, damit das Getriebe sich wieder dreht.
Schaum quillt während des Aufschäumens über.
Zu viel Milch im Behälter.
Nur so viel Milch eingeben, wie die Skalierung es erlaubt.
Milchreste am Behälterboden.
Behälterboden wurde nicht richtig nach dem Gebrauch gereinigt.
Beseitigen Sie alle Milchreste nach jedem Gebrauch vom Behälterboden.
Gerät stoppt nicht und Milch schäumt über.
Milchreste könnten sich im Startschalter festgesetzt haben.
Benutzen Sie einen mit etwas heißen Wasser befeuchteten Schwamm. Wischen Sie vorsichtig über den Schalter. Danach bewegen Sie den Schalter auf und ab. Dann lassen Sie das Gerät trocknen.
Gerät startet nicht automatisch.
Gerät nicht angeschlossen.
Überprüfen Sie den Anschluß.


Gerät befindet sich im Abkühlungsprozess.
Warten Sie einen Moment, bis das Gerät startklar ist.
Gießen Sie kaltes Wasser zwischen den einzelnen Aufschäumungsvorgängen in den Behälter.
Gerät produziert nicht ausreichend Schaum.
Flügel nicht richtig eingerastet.
Flügel richtig zusammen setzen.
Zu wenig Milch im Behälter.
Milch bis zur Skalierung eingießen.
Rückstände am Behälterboden.
Behälterboden von allen Rückständen reinigen.
Auswahl der Milch falsch.
Benutzen Sie generell kalte und frische Milch.
Behälter ist nicht abgekühlt.
Kühlen Sie den Behälter nach jedem Vorgang ab.
Behälter nach dem letzten Gebrauch nicht richtig gereinigt (verfettet).
Behälter ordnungsgemäß mit Seifenwasser und einer weichen Bürste reinigen.
Schaumflügel ist nicht richtig gereinigt worden.
Schaumflügel von beiden Seiten mit Spülmittel und Bürste reinigen. Danach gründlich mit klarem Wasser ausspülen.
Gerät produziert nicht ausreichend Schaum.
Behälter mit etwas Wasser und Spülmittel in Betrieb nehmen. Danach nur mit Wasser ausspülen.